Aerospace Engineering
Engineering Services Offshore and Onsite
Our Aerospace Engineering Practice offers solutions in design and development of aircraft structures and mechanical systems. With flexible business models, the Aerospace Engineering Practice can support its customers with quality products and services in time at an affordable cost.

Our core team in India consists of leading Industry Professionals with vast domain expertise who have successfully executed complex design and development projects for Indian and overseas companies.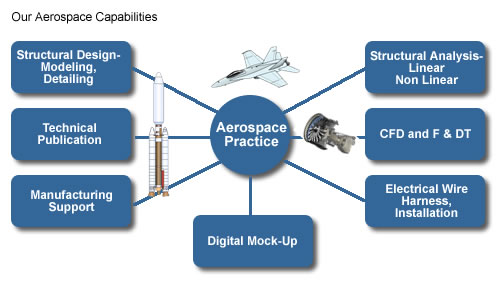 Our technical team comprises of industry experts and senior technical managers from the Aerospace, Defense and Automotive domains. The team also includes renowned Engineers, Designers, Researchers and Academicians from the industry.

We also have a panel of external consultants from the academia and the domain, both in India and abroad, to cater to the customer's needs.

Design
Detailed Design
Detailed Design
Composite Structure Design
Surface Modeling and Solid Modeling
Assembly Sequence and checks
Electrical wire Harness and installations
Drawings
Design Drawing
Manufacturing drawings
Station diagrams
Mock up drawings
Digital Mockups and Technical Publications
Digital Prototyping
Manufacturability Assessments
FE Modeling
Shell and Solid Meshing
FE Mesh generation
Stress & Fatigue
Linear
Non-linear
Buckling
Fatigue and Damage Tolerance
Estimation of natural frequencies
Temperature distribution
Steady and transient